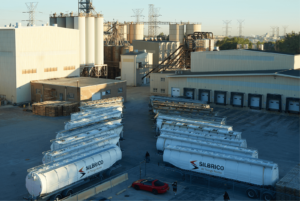 As we proudly celebrate Silbrico's 75th anniversary in 2021, we're looking back at the history of our company and the history of perlite itself. Just as we've come a long way since 1946, perlite has continued to transform our everyday lives—from how we grow our plants and filter our food and beverages to the makeup we wear and the way we build our homes.
Perlite truly is a mighty mineral, and here at Silbrico we're dedicated to being the experts on how beneficial it can be for businesses now and in the future. We're all about being curious and creating new ways to use perlite to benefit our valued partnerships and people around the world.
Perlite: An Indispensable Resource
Before there was Silbrico, there was perlite. An anamorphic volcanic glass, perlite is a natural resource that has been used in commercial and industrial applications for decades. What makes perlite so valuable is its unique characteristics, brought out when heated at extreme temperatures and expanded to varying sizes and grades. Each size and grade of expanded perlite has a variety 
of properties that provide enormous benefit to our environment and society, making it one of the most versatile minerals in the world.
Perlite is used as a growing medium for plants, promoting seedling growth and providing added benefits to soil mix. It's absorbent, making it ideal for environmental restoration, residential cleanup, and industrial remediation. Fire retardant, lightweight, insulating, and even noise reducing, perlite is also the perfect addition to paints, coatings, and plaster aggregate. Insulation 
is often made using perlite. It's a cost-effective adhesive. It's found in cosmetics, skincare, soaps, and toothpaste. Perlite is even compatible with standard filter equipment for food and beverages.
Put simply, there is no other substance on Earth that has the wealth of purposes, added benefits, and potential for innovative opportunities that perlite provides. Perlite is a one-of-a-kind 
mineral, requiring a one-of-a-kind company to ensure it lives up to its full potential as an indispensable resource.
Meet Silica Brick & Company
While Americans had begun mining and exploring the potential uses of perlite as early as the mid 1930s, World War II brought a halt to its development. Things picked back up for perlite innovation in the late 1940s to early 1950s, right when the origins of Silbrico were established.
Silica Brick & Company was founded in 1945. As evidenced by the name, Silica Brick & Company was not an innovator in perlite, but a brick manufacturer located near Midway Airport in the Clearing District of Chicago. After becoming incorporated in 1946, the company expanded into perlite insulation in 1947, just as the industry's development hit its stride. Silica Brick & Company soon joined forces with Mendius & Associates to form Silbrico, the name stemming from the first few letters in each word of the original company creating Sil-bri-co.
For many years, as perlite found its purpose among varying industries and applications, Silbrico maintained a focus on brick manufacturing, roofing construction, and portable expansion. 
But after purchasing land and moving Silbrico to Hogdkins, Illinois, that focus shifted. In 1965, Silbrico officially retired from manufacturing brick, and in 1966, we put all our eggs in the expanded perlite basket.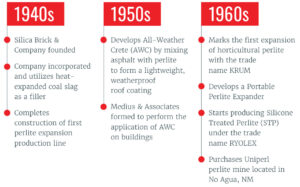 Decades of Perlite Innovation
One of the first innovations to come from Silbrico's new focus on perlite was the development of All-Weather Crete, a thermosetting asphalt fill created from a mix of perlite and asphalt that debuted in 1970. Five years later, we developed a portable perlite furnace, allowing for on-site perlite expansion to open the doors to cryogenic insulation. This invention allowed super-cooled industrial gases to be stored in containers for transport or in stationary plants.
In 1987, a client gave us a particularly large innovation challenge: creating a fine enough grade of perlite to act as a natural cleaning agent, without it being too abrasive. The result of this exploration was Silbrico's exclusive Sil-Cell, the very finest grade of perlite. Today it is used in the cost-effective manufacturing of joint compounds, adhesives, auto body putty, plastics, cosmetics, and more.
We continued our efforts to get the most out of perlite's incredible capabilities with the launch of Sil-Kleer in 1992. Sil-Kleer leverages perlite's sterile filtering properties to become a great alternative to traditional filter-aids, including diatomaceous earth, silica gels, and clays. From biodiesel and metalworking coolants to food and beverage fermentation, Sil-Kleer has opened the door to twice as much filtration, pound per pound, as diatomaceous earth—and at a lighter weight!
Silbrico & Perlite: Where We Are Today
Silbrico's most recent milestones include entering into a licensing agreement in 2018 to manufacture Sil-Cell in Australia and our expansion into Easton, Pennsylvania, in 2019. Now, what started with one location and one production line has grown into an industry-spanning enterprise with two locations and 12 production lines.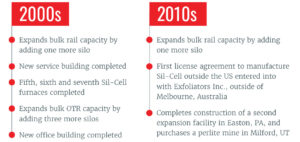 From day one, we've always been a team of big thinkers and "what if"-ers, seeking out opportunities and creating outcomes that advance our way of life. That's why when we discovered the immeasurable value of perlite, we knew combining our ingenuity with perlite's functionality would produce something incredible. Even still, we had no idea just how many incredible innovations would come out of our work only 75 years later!
TO THE NEXT 75
When it comes to expanded perlite, Silbrico is all in. We are immensely proud of what we've achieved together and in partnership with our clients and perlite colleagues. The work we do each day is instrumental to dozens of industries and applications that affect each of our daily lives, and that is something we never take for granted.
From the entire team at Silbrico, we thank you for your support over the past 75 years—here's to celebrating the next 75 together!